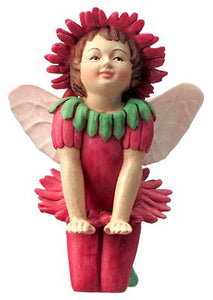 Double Daisy Fairy 86927 (boxed) (RETIRED but in stock)
Double Daisy Fairy Ornament - Height 3"
Each comes with a fine gold cord for hanging as well as a detachable 6" metal floral pick for use in a plant or basket and a box.
The Double Daisy Fairy
Dahlias and Delphiniums,
you're too tall for me;
Isn't there a little flower
I can choose for D?

In the smallest flower-bed
Double Daisy lifts his head,
With a smile to greet the sun,
You, and me, and everyone.

Crimson Daisy, now I see
You're the little lad for me!
---
We Also Recommend