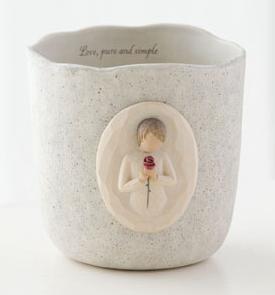 Loving Angel Candleholder 26419
Loving Angel Candleholder
- "Love, pure and simple"
Size: 3.5" high x 3" diameter - comes with a tealight - also fits a votive candle
May also be used for small plants, flowers, or trinket holders
NEW in January 2009
Willow Tree hand-carved sculptures speak in quiet ways to heal, comfort, protect and inspire. Susan Lordi identifies emotions so important for us to convey, and renders them in simple, pure gestures. About Willow Tree, Susan says, "I try to keep the interpretation of Willow Tree open. I hope this makes it more personal, and allows the viewer to decide its meaning."
A gift of Willow Tree communicates beyond words.
IN STOCK
Willow Tree®
by Susan Lordi